November, 2007
Norman Mailer Died

Mailer died about 4:30 a.m. Saturday at Mount Sinai Hospital in New York City. Author of "The Naked and the Dead," "The Armies of the Night" and "The Executioner's Song," Mailer was the most famous of the generation of writers who came of age after World War II. He was the most colorful, and most pugnaciously so. Norman wrote constantly: novels, screenplays, articles, poems, polemics. He was a key figure in the "New Journalism" movement of the 1960. He co-founded the Village Voice. He was married six times. With his brawny physique and outsize personality, Mailer was never one to shy from a fight, whether physical or literary. His feuds made headlines. He ran for mayor of New York, agitated for left-wing causes -- though his 1971 book, "The Prisoner of Sex," made him a pariah to the feminist movement -- and led a drive to obtain parole for a talented convict, Jack Henry Abbott -- an act that backfired when Abbott killed a man not long after being freed. One of his books was called "Advertisements for Myself." He wasn't kidding. His longtime rival Gore Vidal once said trhat he is a man whose faults, though many, add to rather than subtract from the sum of his natural achievements. Ultimately a hero is a man who would argue with the gods, and so awakens devils to contest his vision. Mailer observed. The more a man can achieve, the more he may be certain that the devil will inhabit a part of his creation. Even as he walked both sides of that line, there was no doubting his literary talent. He won the Pulitzer Prize twice. For "The Armies of the Night" (1968) and "The Executioner's Song" (1979). As well as the National Book Award and several other honors. His literary style was energetic, muscular, relentless: Joan Didion, no slouch herself, called him a great and obsessed stylist, a writer to whom the shape of the sentence is the story. Norman Kingsley Mailer was born January 31, 1923, in Long Branch, New Jersey, and grew up in Brooklyn, New York. He describes his family -- his father was an accountant, his doting mother an assistant in running a trucking company -- as a "typical middle-class Jewish family," but other accounts refer to the clan as working-class...



THE 19th CENTURY IN THE PRADO
From October 31 2007 to April 20 2008, this exhibition will bring to public attention the Museum's collection of modern paintings. The new extension will provide the perfect setting for this renewed focus on its exceptional holdings of 19th-century art, which have been inaccessible for many years, during which time they have been the subject of a major research and restoration project. This has not only led to the present exhibition but also to the publication of an exhaustive catalogue in which they will all be published for the 1st time.The public has the opportunity to rediscover Spanish art from the last quarter of the century of Goya to the birth of Picasso.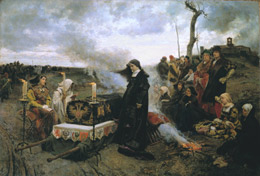 The 19th Century in the Prado'll be displayed in the impressive new temporary exhibition galleries & consists in a selection of more than 100 works that offer a survey of 19th-century Spanish art from Goya to Sorolla. The Museum has chosen this as its inaugural exhibition for the new wing in order to make up for the neglect that these artists have suffered for many years, given that there has been so little space to display their works. Comprising a group of 95 paintings and 12 sculptures, the exhibition will also include a complementary section featuring a selection of drawings by Goya, headed by the magnificent
Winged Bull.
This work'll be displayed to the public for the first time following its acquisition for the Museum last year.
Catalogue: The 19th century in the Prado.
520 p., 20 x 30cm, ill. Price: 48€ (paperback) Spanish and English; 55€.
Velázquez' Fables, held from 20 November 2007 to 24 February 2008 in the Villanueva Building is the first exhibition to offer an in-depth analysis of the artist's work as a painter of narratives. It brings together 27 works by the artist in addition to 24 by 17 other artists with the aim of revealing the context in which the artist executed some of his most important paintings. Among the works by Velázquez to be seen in the exhibition are 12 loans including The Rokeby Venus from the National Gallery in London, one of the artist's most famous works no longer in Spain.
The group of works on display by Velázquez comprises his sacred and mythological compositions now in the collection of the Prado as well as other important paintings on loan. The latter include Christ in the House of Martha and Mary, The Immaculate Conception and Saint John the Evangelist from the National Gallery in London; Saint Paul from the MNAC in Barcelona; The Supper at Emmaus from Dublin; Joseph's blood-stained Coat brought to Jacob from El Escorial (which will be seen next to Apollo in the Forge of Vulcan) ; and The Temptation of Saint Thomas from Orihuela. Among the works by other artists special mention should be made of Poussin's The Triumph of David; Saint John the Baptist by Martínez Montañés; Joseph and Potiphar's Wife by Guido Reni; Democritus by Ribera; The Immaculate Conception by Alonso Cano; and Rubens' Heraclitus.

A catalogue will be published.

October, 2007

'Superyacht.' The Luxury Superbook
'Superyacht' is the luxury superbook limited to a worldwide edition of 1,000 units. For more than 150 years, big boats have reflected the highest aspirations, bothfinancial and creative, of the world's richest and most influential people. To celebrate this phenomenon, Gloria delivers 'Superyachts', the definitive collector's piece, created from the inside and in a luxurious and large format, aimed at the most influential people today. It's a truly definitive view of this extraordinary industry and has been celebrated already, by the industry's leadership, by customers and by media. It's the ultimate luxury customer. 'Zeitgeist' is an overused word. But if there was ever a moment to create such a work and ever a moment to acquire one, it is now. 'Superyacht' features the definitive history of yachts, taking us from ancient times through to the modern and encompassing all the key milestones in a quite extraordinary world. Book showcase breathtaking yachts and fashion photography from Helmut Newton, David Bailey, Mario Testino, Patrick Demarchelier, Todd Eberle and many other legends. Original interviews include those of owners and an array of industry leaders, including George Nicolson, Paolo Vitelli, Peter Lurssen, Alice Huisman, Ron Foster, Tom Perkins and others. Superyacht senior editorial consultant is Jim Gilbert. He is the founder of Show Boats International. Giant format of 42cm x 32cm presented ina unique 'crystal' Lucite case. 656 pages printed on semi-matt LumiSilk 200 gsm art paper. Book weight is of over 12 kgs. Book is lavishly illustrated with over 1,5000 images. Many never previously published.... Price of this book - $3,950.00. 'Superyacht' appeared in summer 2007. This luxury limited edition is the ultimate acquisition for superyachts owners. Key yacht writers are supported by the world's leading style, travel and fashion writers, like Dylan Jones, editor of GQ and fashion historian Colin McDowell, as well as numerous others.
David's Magic
Authorities're investigating a Seattle woman's allegation that she was sexually assaulted by illusionist D. Copperfield. An attorney for the magician categorically denied the
David Copperfield
accusation. But the probe led FBI agents Wednesday to raid a warehouse Copperfield owns in Las Vegas & to search the Las Vegas hotel where he frequently performs. Attorney David Chesnoff said Seattle police have not given him the name of the woman making the accusation, but he told CNN that the name wouldn't matter really ... because it's categorically denied as a false accusation, an impossible kind of claim. Mr. D. Copperfield's reputation precedes him as an impeccable gentleman, Chesnoff said. So they're disturbed that those kind of allegations're being made, but he believes that that's a common event now, unfortunately, for celebrated people to be to be falsely accused, he said. No one he's ever had a relationship with could ever say that about him, he said. Earlier, Seattle police said the FBI raid on the warehouse stemmed from an accusation in a police report filed by a Seattle woman over the summer concerning an incident that allegedly took place in the Bahamas. They did not specify the type of allegation made against David Copperfield. Glenn Miller, chief superintendent in charge of the detective unit of the Royal Bahamas Police force, told CNN that he had no official reports of any incident involving D. Copperfield. Agents were investigating a case based in Seattle when they entered the warehouse Wednesday night. No other information could be made public about the probe. A dozen FBI agents stormed the warehouse & took a computer hard drive & a memory chip from a digital camera system, as well as $2 million in cash that was inside a safe. CNN could not immediately confirm these details. FBI agents also searched the Hollywood Theater at the MGM Grand Hotel in Las Vegas, where Copperfield performs. Copperfield earned $57 million in 2005 & the same amount the year before, according to Forbes magazine. The 51-year-old performs in Las Vegas & around the world, has starred in TV specials, & was named a "living legend" by the Library of Congress. He was once engaged to Claudia Schiffer. According to his Web site, David Copperfield began performing professionally at age 12 & became the youngest person ever to be admitted to the Society of American Magicians. By 16, he was teaching a course in magic at New York University...
Christian Bale
Bale plays weathered rancher Dan Evans in the remakeof the 1957 Western film. Like with every character he plays, Bale melts into the role, disappearing behind Dan Evans dirty fingernails, scruffy beard. The 33-year-old man, said slumping into a sofa at the Regent Beverly Wilshire hotel "So much is the dirt. Real sun, real wind, real dirt. & I think you needed that, to get out there & just get the feel of it." Bale is the chameleon of his generation, as convincing as a muscular cartoon hero as he is an emaciated insomniac or an obsessive young executive with a murderous streak. He follows no formula or character ritual. He hardly follows film, saying he doesn't consider it to be necessary to have a great knowledge of movies to make them. He said that he'd be troubled by knowledge of where he fits or where a movie fit in the pantheon of moviedom. He prefers not knowing & making it for its own reasons & his own reasons. Bale's reasons revolve around story & setting, & the experience of making a film. He likes sitting in mud or in tents all day. His real motivation is putting himself in other people's shoes & investigating what life is like looking through their eyes. Sometimes he does heaps of research, learning tricks for his role in "The Prestige." He undergoes physical transformation, losing more than 60 pounds to play the lead role in "The Machinist." Then gaining it all back, plus 40 more, to play the sturdy superhero & his alter ego in "Batman Begins." Bale becomes so immersed in his characters that he can't leave them behind. Bale's informal acting education began when he was a child. The youngest of 4 in a family that moved constantly, he says that he was acting somewhat in my own life in terms of adapting to the different kids in schools I had to go to all the time. After some TV work, at age 12 he landed his 1st film role. It was a doozy: the lead in Steven Spielberg's epic "Empire of the Sun." Peter Fonda, Bale's co-star in "3:10 to Yuma" recalls that after seeing Christian in 'Empire of the Sun,' he went, he hopes, they don't just shove him into films. Maybe he'll step back a bit & learn the working that an actor does. Bale did step back, considering again & again if he really wanted acting as a career. Once he'd decided, somewhere around age 21, Bale devised his own acting-class curriculum. With real roles in real films that culminated with 2004's "The Machinist." He said that before that, he would say that was kind of the equivalent of me doing his drama-school training, his film-school training. He experimented with things, just wanting to see if it would work. Many times it didn't. The Christian Bale Film School included his breakthrough role in "American Psycho," a bloody drama that he considers a black comedy. He said that he has a twisted sense of humor. His portrayal of an uptight psychiatrist in the dysfunctional-family tale "Laurel Canyon" & a futuristic fighter in the sci-fi thriller "Equilibrium" also came during this time. Bales draws on his own creativity, life experiences. He says that the ideal actor would have no life whats ever. He said that there would be an absolute void, so they could truly just study somebody without putting any of their own interpretations onto it, adding that it's obviously impossible. One gets the feeling Bale would do it if he could. "He's got a fire, he understands acting at its core," says "3:10 to Yuma" director James Mangold. Part of Christian's power he thinks is the economy with which he delivers his choices & that he doesn't work too hard, & he has the confidence in his own physicality & just the kind of lightning streaming out of his eyes. Sometimes, he has to do no more than just that. Bale can next be seen in Todd Haynes' "I'm Not There," playing one of the many Bob Dylans the film presents, & in Christopher Nolan's anticipated sequel to "Batman Begins," "The Dark Knight."