June, 2008
Location One: And We Move


Exhibition
Jean Shin: And We Move
takes place 9 June - 26 July, 2008 at 26 Greene Street in the gallery Location One, in
New York City
. Location One is offering solo show from Jean Shin who, during her residency this year, conceived a new metaphor using music to speak about the presence of the body as well as a means of mapping out imaginary communities. Jean Shin residency at Location One is supported by the Rockefeller Brothers Fund.
Location One, a 501(c)(3) not-for-profit organization thanks to Solo Impressions Inc for producing the digital prints for this exhibition, to Richard Lanier, Joseph W. Polisi, George Stelluto and the Julliard school of Music for their invaluable help.
Fall 2008, Location One will be offering new work from Laurie Anderson, artist, musician, storyteller, & this year's Location One senior artist in residence.
Confronting Artistic Diversity
This exhibition focuses on the confrontation between art related to the
Pop Art
movement & artists who work with minimalistic characteristics.
The viewers will have a unique opportunity to view art works of Nelleke Beltjens; Alex Katz; Thomas Pihl;
Jakob Gasteiger; Roy Lichtenstein; Paul Raguenes;
Johannes Girardoni; Hannes Norberg; Rene Rietmeyer;
Keith Haring; Julian Opie; Yuko Sakurai;
Curator of exibition: Karlijn De Jongh.
The "Crossing Borders" will be open from June 14 until July 12, 2008.
A study published on Thursday by the Dutch Centre for Insurance Statistics (CVS) showed that fewer accidents & reports of fire & theft occur when the 13th of the month falls on a Friday than on other Fridays.
"I find it hard to believe that it is because people are more careful or just stay home, but statistically speaking, driving is a little bit safer on Friday 13th," CVS statistician Alex Hoen told the Verzekerd insurance magazine.
In the last 2 years, Dutch insurers received reports of an average 7,800 traffic accidents each Friday, the CVS study said. But the average figure when the 13th fell on a Friday was just 7,500.
The Minardi roller coaster involved many dips & precious few hight but the little Italian outfit hit the front row of the grid & led a lap.
Under-funded from the very start, Minardi outlived far more illustrious names like Lotus & Tyrrell. We have to know bad time to appreciate good. There were enough bad.
The following short film (June, 2008) has featured Nadia Russ "Luxury Cars" prints, which are now on display in the Manhattan Motorcars showroom.
Two original drowings - 'Bentley Convertible' & 'Rolls Royce' - are in the private collection of MOYA, Museum Of Young Art in Vienna, Austria.
New York
2008: Art To Go


AAF NYC creates an exciting environment for 1st-time buyers & experienced collectors to purchase original contemporary art by emerging & established artists. Over 70 galleries from 12 countries around the world, including the
U.S
.,
France
, U.K., Czech republic, Korea will feature paintings, drawings, sculpture, photography & prints, available between $100 & $10,000.
Special events:
Private Preview Cocktail Reception: Wed, June 11, 6-9 pm. Advance tickets only:
info@aafnyc.com
.
Recent Graduates Exhibition, Curator Dan Halm organizes a show of Senior students work from leading NYC art schools. Lecture Series - Thu, June12-Sat, June14. Sculpture, printmaking demonstrations, Children's Art Studio.
AAF NYC is conveniently located near subway & bus routes: 135 West 18 Street, between 6th & 7th Avenues.
General admission tickets are available at the door.
Youga & Raw Food Expo
June 6-8. Yoga and Raw Food Expo took place at The New Yorker Hotel.
New York City
welcomed visitors to the first NY Yoga & Raw Food Expo. Visitors met experts in the fields of yoga & raw foods. Most yoga shows charged between $300 & $400 to come in. Yogis & yoginis were able to take yoga classes of every style all day for only $20 ($15 in advance) or all three days for $35 ($30 in advance) & go to unlimited lectures, panels & the exhibit hall. Some of the best vendors in America explained how to eat, prepare & play with the diet.
Gary Null, NY's #1 nutritionist was at the expo & dazzled by his presentation on the raw food diet. The grandfather of living foods, Viktoras Kulvinskas enlighten your body & soul with his knowledge. Two Raw Food Panels included NY's top Raw Foodists — Brenda Cobb, Matt Monarch, Debra Secunda, Lisa Torres Kevin Shukur, Donna Perrone, "Sproutman" Steve Meyerowitz Lisa Torres, Karen Ranzi, Mark Chabus & Robert Dyckman.
Even all happening listed above brought its professional qualities, this Expo was poorly organized. Staff was not prepared & not everything went smooth, including with Media...
Artists Emerge: New Annual Grant Program


To celebrate its
first year,
Artists Emerge
are offering two grants in July of 2008. Eligibility includes Visual Artists working in both 3D and 2D mediums.
The grant program is open to international applicants, but
Artists Emerge
is only accepting applications via postal mail. Grantee decisions will be based on a compilation of 5 examples of work in JPEG format, the Artist Statement, and Biography. The grants aren't project based, they're more of a general award. For more details please refer to the application at
www.artistsemerge.org
.
New York: 2008 CFDA AWARDS
The new format—an awards ceremony followed by dinner, rather than the traditional mix of the two—was pretty much a success. Yes, some of the films that introduced the nominees for each award were still too long—though Kate Moss' impersonation of Pratts Price was priceless, and Menswear Designer of the Year
Tom Ford's
performance as a needy patient to Gabriel Byrne's psychiatrist in a spoof of
HBO
's
In Treatment
should put the beleaguered network back on the map—but generally things moved much more quickly than in previous years...
WOMENSWEAR DESIGNER OF THE YEAR -
Francisco Costa for Calvin Klein Collection;
MENSWEAR DESIGNER OF THE YEAR -
Tom Ford
;
ACCESSORY DESIGNER OF THE YEAR -
Tory Burch;
SWAROVSKI AWARD FOR WOMENSWEAR -
Kate Mulleavy and Laura Mulleavy for Rodarte;
SWAROVSKI AWARD FOR MENSWEAR -
Scott Sternberg for Band of Outsiders;
SWAROVSKI AWARD FOR ACCESSORY DESIGN -
Philip Crangi.
NEW YORK'S 32nd ANNUAL American Crafts Festival
This event will take place rain or shine.
Toronto
: 2008, Premiere Issue
Toronto
is the new magazine published by Tourism Toronto in
Canada
. Circulation: 260,000.
President & CEO David Whitaker is proud to present the premiere edition of Toronto Magazine that features an inspiration from across this great city & all the practical information readers need to craft their own adventure.
Toronto is a city that provides itself on being one of the most diverse an hospitable cities in the world - a unique urban playground that welcomes visitors from all over the world. Mayor of the city of Toronto David Miller express his hope that the new 2008 Toronto Magazine will play an important part in making the travel plans to Toronto as rewarding as possible. On behalf of City Council & 2.6 million residents, he is "proud and delighted to welcome you to Toronto. Once you've experienced our unmatched hospitality and sampled everything our city has to offer, I know you'll leave with many pleasant memories that will inspire you to come back and see us again."
Table of Contents includes: around town, city gastronomie, discovery district, tower of strength, crowd surfers, the haunting, super fans, listings ( culture & recreation, accommodations, restaurants, shopping, tour operators, transportation, visitor resources,)...
INTERNATIONAL RESIDENCE FOR ARTISTS –
FRANCE
The City of Paris & the French Ministry of Foreign Affairs offer foreign artists a resident's programme at a prestigious building inaugurated in 2003, on the banks of Saint Martin Canal , in the heart of Paris, to foreign artists specialized in any discipline.
This programme is targeted to confirmed writers & artists who will be selected by a board of examiners on the basis of a project they would like to develop in Paris during their stay. This project can be carried out at the invitation of a Paris art institution within the framework of a programme of cultural cooperation or as a personal artistic research approach.
The winners are hosted in one of the 6 studios, for a 3 months period. Available studios, whose areas range from 50 to 70 m2, are all equipped with a kitchen recess, bed and working space. At the end of their stay, the artists must write a report on their stay.
A 1500 € monthly allowance is allocated by the ministry of Foreign Affairs to support the artists' projects, & an assurance in case of illness during the stay.
Travel expenses remain at charge of the artist. However it will be possible for the artist to make a demand at the cultural services department of French Embassies in their respective countries.
Passing Strange


The moving & fascinating tale of a young American on a Journey of exploration & escape, Passing Strange is the show of unstoppable force of energy & music.
A "new musical that - amazing! - actually feels relevant!" (NY Magazine), Passing Strange is a funk-inflected show with score that has some of the most soulful & tuneful rock songs.
Passing Strange
nominated for 7 Tony Awards for
Best Musical
,
Best Book – Musical
(
Stew
),
Best Original Score
(Stew and
Heidi
),
Best Performance Lead Actor - Musical
(Stew),
Best Performance by a Featured Actor and Actress – Musical
(Daniel Breaker and de'Adre Aziza) and
Best Orchestrations
(Stew and Heidi).
Passing Strange
won 'Best New Theater Piece' and 'Best Ensemble'. The cast also performed 'We Just Had Sex' and 'Keys' at the ceremony at Webster Hall on May 19th.
Passing Strange
named best musical of the 2007-2008 season by the New York Drama Critics' Circle. The organization presented its awards on May 19th at the Algonquin Hotel.
Passing Strange
is the first Broadway cast recording to be exclusively available on iTunes before it arrives in stores beginning May 27th, more than a month before its targeted July in-store arrival.
Passing Strange
has been nominated for three
2008 Lucille Lortel Awards
for Outstanding Achievement Off-Broadway, including Outstanding Musical, Outstanding Director (
Annie Dorsen
) and Outstanding Lighting Design (Kevin Adams) ...
May, 2008
Immigration from 1980-2000 raised wages of the average U.S. worker by 2%.
5% of the U.S. workforce is illegal.
Main jobs done by illegal immigrants: farming - 50%; meat & poultry - 24%; dishwashers- 21%; drywall/ceiling tile installers - 7%.
Immigrants raise wages when they fill jobs that Americans don't do, & allow Americans to upgrade their jobs. The more educated an American is, the more he or she benefits from this effect.
1986: "Are great numbers of our unemployed really victims of the illegal alien invasion, or are those illegal tourists actually doing work our own people won't do? One thing is certain in this hungry world: No regulation or law should be allowed if it result in crops rotting in the fields for lack of harvesters." Ronald Reagan.
Illegal immigrants are paying taxes to Uncle Sam, Just how much they pay is hard to determine because the federal government doesn't fully tally it. But the latest figures available indicate it will amount to billions of dollars in federal income, Social Security & Medicare taxes this year. One rough estimate puts the amount of Social Security taxes alone at around $9 billion per year.
"American competitiveness also requires immigration reforms that reflect the importance of highly skilled foreign-born employees. Demand for specialized technical skills has long exceeded the supply of native-born workers with advanced degrees & scientists & engineers from other countries fill this gap..." Bill Gates.
1963: "That Alexis de Tocqueville saw in America was a society of immigrants, each of whom had begun life a new, on an equal footing. This was the secret of America: a nation of people with the fresh memory of old traditions who dared to explore new frontier..." John Kennedy.
Gordon L. Rottman entered the Army in 1967. He volunteered for Special Forces & completed training as a weapons specialist. He served in Vietnam. Gordon was a special operations forces scenario writer at the Joint Readiness Training Center for 2 years, & is now a freelance writer. He lives in Texas.
International Art Competitions


Welcome to the ART BIENNALE - SPAIN. Deadline: July 30 th 2008. Typology: painting, sculpture, photography. Consolidated as one of the most important exhibitions of figurative art in Spain, this Biennial exhibition announces its fourth edition. Artists of any nationality can participate. The exhibition will be divided in 3 parts: PAINTING, SCULPTURE AND PHOTOGRAPHY.
The introduced works will have to belong to the realistic or figurative expression, being of free choice the thematic, the format and the techniques of execution. The jury will effect a first selection on the base of the introduced dossiers. The selected works must be sent in original. They will be part of a collective exhibition that will be organized in the space of the organizing Foundation, in the months of September - October 2008, for which a catalogue will be published. The organization will constitute a fund of a maximum of Euro 100.000 that will be destined to the acquisition of art works, that will pass ownership of the foundation to integrate its collection. The acquisitions will be effected following the recommendations of the jury establishing a minimum quantity of purchase of Euro 24.000. THE 11 INTERNATIONAL STONE SCULPTURE SYMPOSIUM - TURKEY. Deadline: 10 June 2008. Typology: sculpture. This 11th International Marble Sculpture Symposium will take place on the coast of Marmara Island, Turkey between July 23rd – August 23rd of 2008. The participating artists will be chosen by a jury appointed by the Mimar Sinan Fine Arts University. A total of 6 artists will be participating in the symposium and two Mimar Sinan Fine Arts University Sculpture Department students. One of the 8 artists will be a member of the academic staff of the Mimar Sinan Fine Arts University Sculpture Department, who will also be a correspondent between the artists and the symposium committee. The material to be used is Marmara marble, maximum dimensions of the available blocks: 3 m3. The symposium has no particular theme. The sculptures created in the frame of the symposium will remain in the possession of Saraylar Municipality, that will hold the rights of exhibiting these sculptures in museums or in temporary exhibitions. The transportation expenses, just economy class tickets, accommodation and meals (breakfast, lunch and dinner) will be covered by the organization. To each artist who has completed his work in the given time and place will be given a total of 1500 USD for equipment expenses and copyright. The participating students will be paid 500USD. CALL FOR PUBLIC ART - HOLLYWOOD. Deadline: 10 June 2008. Typology: sculpture. The City of Hollywood CRA - Downtown District announce a call for artists to submit proposals for a new public arts project consisting of two functional art bicycle racks which will be permanently installed within the city. In 2008, up to two artists will each receive an honorarium of $5,000 which covers artist fee, design, materials, production and installation of one functional bicycle rack. Artist Guidelines: 1. Production of original outdoor artwork/sculpture that will functionally serve as a bicycle rack. 2. Design and construct functional artwork without any such sharp or other protrusions which could cut or injure individuals. 3. To securely attach the sculpture to a flat base or other material that may be secured directly onto the sidewalk. 4. Construct the functional art in such a way that it will minimize maintenance costs. 5. Design and construct the functional art so that it is a functioning usable bike rack to endure heavy public use and will accommodate both a cable and u-lock. 6. Design and construct functional art so that it will accommodate Americans with Disabilities Act requirements and any City of Hollywood bike rack standards.


The Getty Center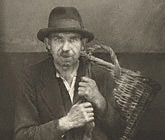 Coal Carrier, Berlin (detail), August Sander, 1929. Banner image: Young Farmers (detail), August Sander, summer 1914
August Sander: People of the Twentieth Century - through September 14.
See August Sander's riveting portrait of the German people in the early 20th century. Come eye to eye with rural farmers and city aristocrats, businessmen and tradesmen, artists and inventors in this exhibition that presents one of the most moving groups of photographic portraits ever made.
Bernd and Hilla Becher: Basic Forms - through September 14. Architectural forms—winding towers, framework houses, blast furnaces, water towers—reveal unexpected beauty in these photographs by Bernd and Hilla Becher. Many of the Bechers' early images were taken in the Siegen district, where August Sander's subjects had lived or worked half a century before. (
www.getty.edu
)
Open Your Eyes


The
Open Your Eyes
published by the University Of
Minnesota Press in 2008. Chapter 17 was previously published in "Sign Language Studies 2, N.4" in 2002 by Gallaudet University Press & reprinted by permission. This book was born out of the Deaf Studies Think Tank, a three day symposium in the Summer of 2002 sponsored by the National Endowment for the Humanities, Gallaudet University's Provost's Office, & the Gallaudet Research Institute.The Death Studies Think Tank convened twenty scholars to debate, discuss, & explore the issues & implications of the field of Deaf Studies... This title has covered such subjects as the Deaf Perception & community, language & literacy, places & borders, the intersections & identities & questions of disability... The contributors to this unique & important project: Lennard J. Davis, Douglas C. Bayton. Harlan Lane, M.J. Binvenu, Arlene Blumenthal Kelly, Lindsay Dunn, Genie Gertz, Robert Hoffmeister, Brenda Jo Brueggemann, Carol Padden, Lawrence Fleischer, Marlon Kuntze, Hilde Haualand, Joseph J. Murray, Benjamin Bahan, Frank Bechter, Paddy Ladd & Tom Humphries. Moving beyond proving the existence of deaf culture,
Open Your Eyes
shows how the culture contributes vital insights on issues of language, identity, power & changes our culture's obsession with normality. The editor of this book, H-Derksen L. Bauman is a professor of the Deaf Studies at Gallaudet University, where he directs the graduate program. He is co-editor of the project "Signing the Body Language Literature," executive producer & co-director of the documentary film "Audism Unveiled..."
This is your last chance to pic up complimentary spring issue of
Talent In Motion Magazine.
You are welcome to the
Moomia,
located at 157 Lafayette & Grand on Tuesday, May 13 at 10 p.m. You'll enjoy music by DJ Jack Haze, $7 Apple Martinis, free raffle, special musical performance by Sophia Grace and... volume XI issue 1 of the
Talent in Motion Magazine!
No cover. This month Mayor Jerramian T. Healy, the Jersey City Municipal Council & the Department of Health & Human Services Division of Cultural Affairs present Hudson Artists Of New Jersey Inc. 16th Annual Spring Show. Exhibition will run May 5 - 31, 2008 at the City Hall of Jersey City, New Jersey. Opening Reception took place May 12 at the Rotunda Gallery, City Hall - 280 Grove Street. During this Reception, artist Marilyn Wenz presented to the Mayer of Jersey City her artwork - J. T. Healy's portrait. It was a presious gift, which J.C. mayer accepted with a pleasure & deep gratitude...
Art & Tech Community Champions Craigslist Founder As Paragon Of Public Service & Net Freedom


Craig Newmark has been honored at Eyebeam's annual benefit May 6, 2008. "Freedom & Creativity" fund-raiser included Comedy Central comedian John Mulaney, The Walkmen & an after-party by NYC revelers The Misshapes. Eyebeam Executive Director Amanda McDonald crowley described Craig Newmark as a natural choice for Eyebeam stating "his commitment to democratic ideals & networked communities is tremendous, & serves as a model for many of us here at Eyebeam." Craigslist began as an email list in 1995 & has today become a widespread & largely free community resource available in as many as 567 cities in 50 countries worldwide, & which receives more than 10 billion hits per month..


Fund For Public Schools
The Fund for Public Schools is dedicated to improve New York City's public schools by attracting private investment in school reform & encouraging greater involvement by all New Yorkers in the educational of children. The Fund plays a pivotal role in improving public education in NYC by strengthening for critical education reform initiatives, helping businesses to create partnerships & programs that support city schools, & raising public awareness about the public schools. The Fund for Public Schools & the Madison Avenue BID are charitable 501c3 organizations announced theMadison Gallery WalkSilent Auction Saturday, May 10, 2008. All proceeds will benefit The Fund for Public Schools.


Sterling' biography series packed with unique images and information ranging from rare documentary and artwork to personal artifacts and maps. Sterling Biographies assist readers in their introduction to history's most fascinating figures such as Abraham Lincoln, George Washington, Margaret Thatcher,Richard Perle, Richard The Lionheart and others. The
Abraham Lincoln
by E. B. Phillips describes in all details Lincoln's fascinating life. This book published in 2008. Reared in poverty on the Illinois frontier, Abraham Lincoln worked from the age of eight - as a laborer. He educated himself. He taught himself grammar & became a talented orator. He thought himself geometry and became a skilled surveyor... At the end he became a wise leader -perhaps America's greatest president.